Last week I posted a Q&A session on Instagram; and as I promised, today is the day when your questions are answered! You guys are insaaaane and I love you so much even though my brain almost exploded with some of your super hard questions! I've done my best and hopefully I managed to answer all of the questions with enough details (now excuse me I will just collapse on my bed during the rest of the holiday).
I've taken the liberty to translate all of the Indonesian questions to English for easier understanding for the international readers. I also combined some of the similarly asked questions into one and grouped them into several categories based on topic. Here we go lovers, click away:
Travel Photography
1. @bdyryhn What are the tips to shoot the local (people) while traveling? Aside from saying hello and smiling, is there anything else we need to do?
A smile and greeting would go a long way. Learn their native language of "Hi how are you?", "May I please take a picture" and "Thank you". Or you can also smile at your subject and give them the gestures that you want to make a picture. Also when shooting a market vendor, it might be a good idea to buy something from his/her stall first before asking to take the photo.
Personally, I am against "stealing" portraits using telephoto lens but everyone has a different perspective on that. In my opinion, no one should be exploited as merely a photo object. Treat them with respects and compassion.
Notes:
Festivals or local events usually makes a good chance to photograph people at their most colorful and also during this time people usually want to be photographed.
Be more careful when shooting people in Morocco, some people really dislike having their photos taken and they might get angry if you keep pushing it. Most of the people I came across were very clear in holding a hand up in front of their face or quickly looking away once they saw a camera, even when they were some distance away. Don't push it. Just don't.
In some places, locals might ask for money in exchange to get their photos taken. Remember that they might work at a low pay and they might well appreciate a small donation from the foreigner shoving an expensive camera in their face. It's up to you to do it or not. However if you got tricked into paying after you take the picture and you don't want to pay/have no money with you, I think it's fair to delete the photo in front of him/her (if you're shooting digital), or you can run at your own risk. Or you know, you could take up self defense classes when things got awry. #bjjsavedmylife
2. @rdwn_arq How do you capture a staged event/dance/show at night or in a low light situation?
Many people (me) are not confident shooting handheld on slower shutter speed. So if you have shaky caffeine hands like mine, I would suggest taking a light tripod with you -the ones you can fold and carry in your bag. But digital cameras nowadays have image stabiliser built inside the body and produce high quality images on a higher ISO, unlike five years ago. Using a fast lens with large aperture will also help you a lot during shooting in the dark.
3. @leginao Is there any tips to achieve great bokeh in landscape and portraits?
A great bokeh is achieved by using the right lens and a large aperture (Ideally 2.8 or larger). To get a blurry background, stand closer and focus on your subject. To aim for an even more blurry background, increase the distance between your subject (foreground) and the background.
A lot of photographers just aim for a blur rather than a pleasing bokeh. Having a blurry blob of shapeless colors in the background isn't pretty, guys. You should not forget about the aesthetics of the background even though it's out of focus. Do not always push for the largest aperture possible; but rather, play with different F-Stops and determine the proper Depth of Field that's more suitable. Often, the blurry portion of the photo looks nicer if enough detail is left in the background to make out some shapes.
4. @widialawi Which country or place you love the most for taking shots and why?
Definitely my own country Indonesia because it's crazy beautiful and full of inspirations. My three always-go-to-spots would be Bali, Bromo and Yogyakarta because they're a short plane ride away from where i live.
5. @cindysuryautama How do you set your camera when you are travelling?
On Manual Mode, Highest Quality JPG (sometimes RAW) and Airplane mode (to preserve battery life).
Find more Travel Photography tips here and here.
Fashion Photography
6. @elisevishanita @gngski In your editorial and beauty shoot, how do you pull the most out of your model to project the exact emotion or vision related to the concept?
Honestly, there is no foolproof trick that surely always brings out the best of someone in front of my lens; but starting with friendliness, warm smile and relaxed vibe always works for me, not only to models but the whole team. If I come to the shoot with a bad mood, everyone will automatically pick the bad vibe and it would continue to a messy shoot. Messy shoot does not make a good picture.
Before the shoot, make sure you brief everyone clearly about the direction of the shoot. Show reference on poses, put on music that adds up to the mood (on a soft, romantic themed shoot, blaring EDM won't work. Trust me.), and last but not least, give a lot of sincere compliments because people look their best when they feel great about what they're doing.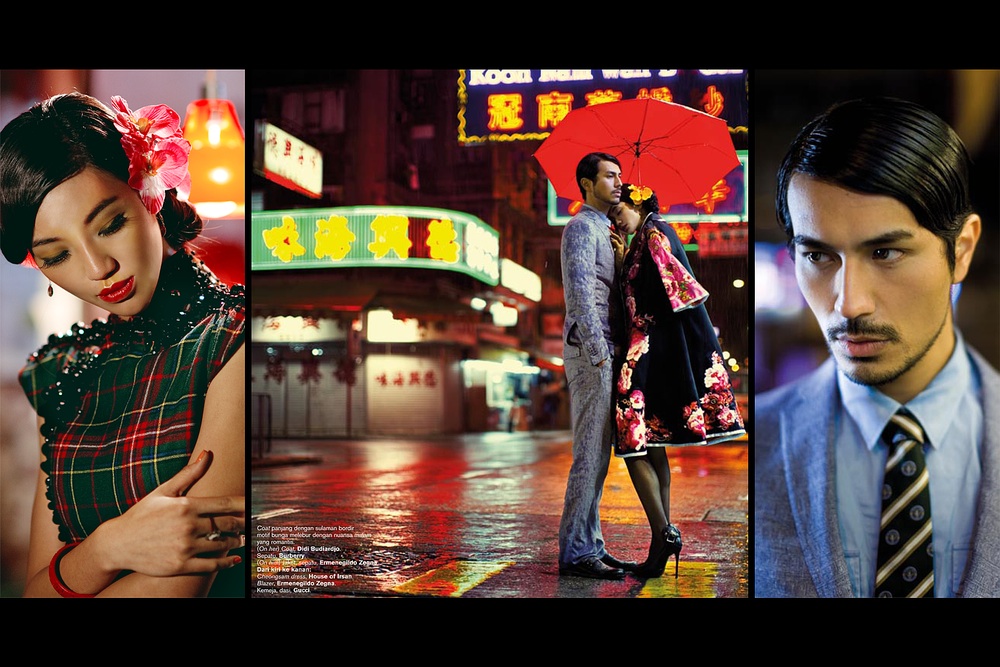 7. @vidityas (1) As a professional fashion photographer, what's your perspective on good and bad images? (2) When you're doing a photoshoot, how do you know that your work is 'done'? Is it when both you and the client are satisfied or is there anything else considered? (3) In the future, do you have any plan to publish your own photography book? Thanks!
(1) Good and bad is always subjective. Everyone has different taste and some style might not speak to everyone's interest. Personally for me, a good fashion photos become memorable when:
There is a story in the photos, especially when enhanced with beautiful setting/location and executed with flawless lighting and composition. Some great examples of this would be my favorite editorial from three of my most favorite photographers: Peter Lindbergh's "City Of Angel" editorial on Harper's Bazaar December 1993, Steven Meisel "Make Love Not War" editorial for Vogue Italia September 2008 and Tim Walker's "The Land of Dreamy Dreams" editorial on British Vogue May 2015.
If it's taken in a plain studio, it must feature AMAZING styling. Examples: Most of Carine Roitfeld's editorials and Steven Meisel's "We Are The World" editorial on Vogue US September 2010.
Some of the strongest fashion images I've seen was shot and published in the past, some even from decades ago. The best fashion images are the ones that retain their strength and impact over the years; and still relevant despite the rapid change of trend, style and fashion.
(2) Ideally a work is considered a great success when both my team and the client are satisfied with the final result. Our job as commercial photographer is to take photos that effectively capture the needs and communicate the ideas of our clients while still translate the concept using our creative approach. These days, I am blessed with more clients who appreciate my style and the way I work so in the end both sides are happy.
(3) Publishing a book would be one of my greatest dreams come true (along with exploring East Africa and having more holidays with my Mom of course), I am still pursuing it and hopefully every step that I do right now is leading to that direction.
8. @bondpermadi Hi Nicole what is the type of lens suitable to shoot OOTD photography? Thanks
By OOTD I would assume it's a full body street style shots. Then definitely a 50mm focal length. It's great for full body shots and you can blur the background if it's too distracting.
9. @farhanfakhry @revidess @wahyuindra_ (1) How to create the mood on your photos? For each series/fashion spread, each shoot always connect with another; how do you do that? (2) And how you always make any lighting in your works seems so natural?
(1) When we develop a fashion editorial concept, the first and foremost important thing is to create a moodboard and storyboard. A moodboard will help you better prepare for the type of photos you need to shoot (references), the outfits that will be used for the shoot, the locations that you need to shoot them at and other elements that come into play during the process. A storyboard is the sketch of every layout that will be shot, drawn page by page. Having a clear storyboard will help you to create a solid storyline. Simply said, all the pages on the fashion spread images we shot for magazines have gone through detailed planning from the composition, colors, lighting and every little thing we could think of.
(2) On outdoor shoots, I only work with natural/available light and avoid using additional lights as much as i can. The only light modifier that I need is usually a reflector to help me with bouncing or filling lights.
10. @kumaindaja How do we make a portfolio with a good selling points to score a magazine job?
First, you have to define which publication you're aiming to. Every magazine has a different visual style and is differentiated by the demographic target readers. Learn about the style of the magazines and create a portfolio that caters to that particular style. For example: you can shoot an edgy, younger fashion concepts when sending portfolio to Nylon magazines, or more sophisticated, high end fashion shoots when sending to Harper's Bazaar. Work with new models, fashion design or make up school students to save on budget.
11. @sidhi_pradnyana@ahlamnadia Do you need extra (advanced) techniques or gears to create an interesting fashion photo?
A good camera/lens/any gear are designed to make a photographer's life easier and the image quality better (in terms of sharpness and clarity). But it does not create a story by itself. Not even the world's most expensive camera would. We can also learn all these new techniques, but creating great images isn't about the tools. A good understanding of lighting, composition and most importantly a deep thirst for inspiration will create a strong photo. Immerse yourself with good photos everyday to train your eyes in seeing the beauty.
Gears & Equipment
12. @fahnissa Analog or Digital ? Why ?
Absolutely digital. Analog cameras always have their own charm but the rapid development of technology in digital camera has made me excited me in a lot of creative aspects.
13. @sonoftia What is your favourite gear combo? (Camera + lens + other accessories). I'm a new Sony fanboy and really want to migrate to sony asap, any gear suggestion?
The equipment you need depend so much on the type of photography you do. As for me, I do mostly fashion and travel photography for advertising and magazines; therefore image quality is a key factor because most of the images will end up published and printed. My main camera is the Sony A7Rii because of the superb image quality, fast performance and portability. My favorite lenses are:
Sony Planar T* FE 50mm f/1.4 ZA : Probably the most useful prime lens for fashion shots. Also good for street/urban shots, studio work, lifestyle shots.
Sony FE 85mm f/1.4 GM : For portrait shots, beauty shots, food shots.
Sony Distagon T* FE 35mm f/1.4 ZA : For fashion shots in location, landscape shots, cityscape shots and also dealing with narrow spaces.
Sony Vario-Tessar T*FE 2470mm ZA : An awesome and lightweight all around zoom lens. Best for travels.
14. @crist_patra If you want to switch to another gears, what would you choose? And why?
I am very content with my fullframe mirrorless system right now (Sony A7 series). It's the best size for traveling and it produces the best image quality for editorial and advertising jobs. However I am looking forward to get my hands on the new A99ii DLST system which will be launched next year in Indonesia. I tried it during the launch in Photokina last October and I fell so much in love! Especially because I can use all my trusty old Zeiss lenses on the A mount fitting.
15. @stvnfyes Hi, why do you choose mirrorless system over DSLR?
I got this question so much that I will actually write an in depth post about this. But for now, here's the short story: I've used DSLR for eight years before considering to switch to mirrorless. However I waited for awhile because in the beginning the mirrorless systems where not up to the DSLR standard yet in terms of performance, full frame sensor and image quality.
Up until Sony released A7, a mirrorless full frame system that has surpassed my trusty DSLR in quality and performance. At 24.6megapixels, the A7 is comparable with my old A900 in resolution but produces so much unbelievably cleaner and sharper images. The dynamic range and fast autofocus help me a lot during low light situation (Up until 10000 the images are still sharp and clear on large prints) whereas with my old DSLR I cringed just by increasing the ISO to 400.
16. @enfermeranomada @ekky52 What is the best mirrorless Sony camera for beginners? Thanks
If you're an aspiring photographer, I highly suggest either the Sony A6300 series or Sony A7mii. Both are excellent in quality, both have 24mp sensor and each has its own strong points. The A6300 captures 11 frames per second, has a faster autofocus and is lighter than the A7m2; while the A7m2 has full frame sensor, built in image stabilisation for shooting in low light, and is also a better choice if you plan to use manual focus lenses.
@natashawlma Hi, how do you take care of your camera/lenses?
As someone with lots of dents and scratches on my lenses, I am not the most suitable person to answer this. I clean my equipment using a wipe cloth or a hand air blower once every few weeks like every other lazy photographers. I don't own fancy dry cabinet because the gears are always out with me on the road. However I strongly believe in a sturdy camera bag + straps to protect my gears when I'm traveling.
Editing
17. @irmaseptia @tommysatria @enfermeranomada I'm always interested on the color/tones of your photos. Are those colors raw/straight from the camera or do they go through an editing process first? What apps do you use to edit your photos?
Most of my photos always undergo post processing; be it color toning, distortion correction to retouching. I love playing with colors using Lightroom (computer) or VSCOcam app (phone). Sometimes a slightly tweaked tone can give a new and interesting touch to an otherwise boring image. Just don't go too far with the filters unless you want to create a surreal painting or something. And most importantly, you gotta get the colors and lighting right when you shoot it. No amount of filters can save a terrible lighting.
18. @nathanael.shawn What's your 5 favorite presets on VSCO cam?
This is easy! I try different presets a lot, but recently I really love using A4, A6, C5, C7 and Q1.
The Aesthetics Series (A4-A6), is one of the most popular presets in VSCOCam. They give a higher contrast, subtle color shifts and slight fading while still maintain a natural look on your photo. The A4 gives a slightly warmer tone and aged look. I love using it on photos that features leather or wooden textures.
The A6 is a cooler, more contrasted filter and it gives the image a clean and crisp look. This is by far my most favorite preset. I love applying this filter on interior and cityscape photos.
The Chromatic Series are super vibrant and well, super chromatics. Each of the preset gives out different vibes; but all make the colors of your photo pop. The C5 gives off a warmer tone on your photo by adding yellow and orange tint.
The C7 gives a saturated cool, bluish tones and is also good for lightening up dark photos. This is by far my second most favorite filter after the A6.
The whole Q series/The Alchemy Collection just exudes freshness, and my favorite of all is the Q1. With gentle color shifts and high contrast, the Q1 is a perfect filter for nature photos that feature blue sky and foliages. On the image above, I also added light flare using the LD app. (This is also answering @snreynaldo question)
On applying presets, remember to never lose the photo's natural quality. Sometimes the filtered colors that look good can mess with the skintone so put that into consideration. Find the filter that best compliments your aesthetic and style, but don't go overboard. I usually only use the filter halfway to retain the quality and natural tone of the photo.
General Questions
19. @amaliakautsaria@sanatalay @bawahkursi @imalga Hi, how important is a Style for a photographer? Did you shape your own style?
Noone was born with a style. We all started out looking at what our favorite photographers are doing, and sometimes trying to create similar images (Oh hello my 2007 Lindbergh-inspired photos). The real challenge is coming up with an image that resonates, first of all, with yourself and later on with your audience. It takes time shooting lots of good stuff and bad stuff to try to figure out your style. There's no shortcut in finding it though. Just do what you love, shoot as much as possible, and then a style will happen later on. People put it together and decide it's yours.
The style consistency in your portfolio will develop your personal brand and make clients confident in hiring you, as they will have some ideas on what you'll create for them. Conversely, they can also decide not to hire you because your style doesn't work on their taste. But don't you rather get the job of shooting what you love?
20. @baradhio How to set up a simple studio for product photoshoot? What the essential thing should I take note on product photography? And last, which one do you prefer, natural lighting or the set up one? Thanks!
Personally I love natural light on product shoot. Try setting up a table close to the window and experiment with the light direction and shadows. Invest in different colors of background paper (white and black is a must), a wooden board or other textures. If you don't own a reflector yet, you can start with a polyfoam/styrofoam (that you can get in any stationary stores) to experiment with bouncing and filling light.
Remember to avoid any flat lighting. Shadows can add an interesting character on product photos. Play around with the product placement until you get the right lights and composition. When using natural light, don't forget to turn off all the ceiling lamps because they might create unwanted shadows or light reflections.
21. @stvnfyes Can I get some tips on how to become a professional photographer without having any academic background in photography.
I never had any formal/academic background in photography, but I learnt from the best teacher: Google. Yes, you literally can google everything these days from technical questions on equipment, lighting, composition; to how to create moodboard for a shoot.
On getting into the business, on the other hand, it would help so much when you're already inside the industry. And the best way to do that is by assisting a working professional photographer. This is way more useful than attending a photography academy as it will put you right within the business and meeting the key people inside. While assisting, don't forget to work on your personal portfolio. This process might take a few years depending on how persistent you are, but if it will be all worth it.
22. @handi.kurniawan What is the biggest misconception about photography skills that people should know?
Biggest misconception I've ever heard is that to be a working professional photographer, all you have to do is make good photos.
Sadly. That is nowhere near true. To work in the industry, having photography skill only is not enough. You'll need other skills such as marketing, business, interpersonal to bookkeeping skills and many other skills not related to photography. In fact, you would probably only shoot on about 20% of your working time. The rest of the time you're doing your taxes, order fulfillment and sales, writing blog posts, updating social media accounts, and networking.
Second biggest misconception is: Expensive camera makes great photos. This argument is equivalent to stating that great food must be cooked in an expensive stove. My opinion on this is stated above.
23. @np.photo How not to be underestimated on being a female photographer?
It's a preconceived notion that being a female photographer working in a male dominated field, I would face a lot of obstacles from the gender inequity treatment. However being fashion photographer working since 2006, not once in my life I've ever felt I was demeaned or patronized on my profession. But I am aware that in some other field of photography, this issue is still relevant. I will give some general suggestions here:
Even though I never experienced this issue firsthand, probably some people might have done it to me subtly in the past and I never took notice. Which is the first tip. Start with yourself, do not take people's opinion too sensitively.
In this profession, gender (or age, or background for that matter) is entirely irrelevant. I never consider I need a special treatment because I'm a female photographer; like coming up with excuses when I have to do (physically) harder photoshoots. Toughen up and focus on getting the job done. That's tip number two.
I think in every work field (not just photography), you just gotta display a solid self-esteem by being assertive in presenting yourself and confident with your work. You have to know what you want, what your limitations are, and being able to express that in a confident and respective manner. Learn when to say 'no' and do not ever display a passive behaviour that allow yourself to be compromised. Being assertive is positive and will only encourage other people to react in a reasonable and mature manner.
About My Work
24. @muhammadnasrullah.art What kind of photography do you like the most -Landscape, Portrait, Fashion or others?
I am a Fashion Photographer by profession, but honestly I don't want to contain myself into just one specific category. I love shooting portraits, landscapes, streets, my breakfast, coffee, really anything that catches my eyes. The best thing about being a fashion photographer is that I get to travel a lot, which enables me to do my personal photography work. The second best thing about this job is the endless fun in production: Meeting talented people, finding cool locations and shooting pretty models.
25. @rizmuh @ragatmdy How do you build your career during college? How was the process from the very beginning to being a professional photographer?
As much as I want to say I was a good student, I wasn't. Honestly, on my third year I missed probably 80% of my classes because in the daytime I organized a lot of testshoots with models I found online. I think it was on my last year of college I realised that Painting wasn't for me and I decided to pursue a full time career in Fashion Photography. I shot new agency girls, documented events and shot family portraits for a living, until I felt confident enough to to send my portfolio to Fashion magazines. In the beginning I got either no reply or rejections but over a year, they finally got back at me and I shot my first Editorial in The Netherlands.
It took years and years of hustling, pushing the limits, humble learning and zillions of mistakes to be where I am now -which is a working professional photographer, but still far away to what I once dreamed to become. My "big break" first came when I won the Iconique Fashion Photography Award in 2007, then the next one was when I scored my first Harper's Bazaar editorial in 2008, and years later I got the opportunity to have Liv Tyler in front of my lens and got featured on Asian Next Top Model. None of them came knocking on my door out of thin air though, it's through years of portfolio building, networking, sleepless nights and working on holidays and weekends (what weekends?)
26. @amrico06 How big does the luck factor play a role to be a photographer like you? Or are they all the result of hard work?
It's cliché but I strongly believe in these words and I have said it a gazillion times that I really need to start hanging it in my room: Success is 1% talent, 99% hardwork. So the bad news is: There's no luck involved. Like what I stated above, the world isn't going to hand you success out of thin air. The good news is: There's opportunities. The even better news is: It's you who creates those opportunities. By working hard and diligently. Yes, it's out there and yes, it's your choice. Put yourself out there, meet people, network, assist, rack up experience, work on your marketing strategies, do good work, be the kind of person people wants to work with.
27. @ryan_rai @meitydewi What is your quick fix for any unplanned (problems) during photoshoot?
I think by time, I become more composed when leading a photoshoot; and I realize that every problem can be fixed when you're dealing with it calmly. It wasn't easy during my first years of commercial photography- Patience was not my middle name. I was so young and on fire and stupid. But you grow older and more mature. Also most importantly, a good production planning always has a backup plan that oversees almost every problem that might occur.
28. @___lut @larinesukamto @alexchristianhal How you see yourself as photographer? What is photography to you?
At this stage I see myself as both an artist and businesswoman. Photography is passion and profit; it serves as both a medium to create and inspire, and also my way to make a living. Most of the times they can be both at the same time.
Many photographers have inspired me. The first time I fell in love with Fashion photography was when I stumbled upon a fashion spread shot by Peter Lindbergh for a 1993 issue of Harper's Bazaar magazine. Then along the way I got inspired by Wong Kar Wai's subtle definition of romance, Steve McCurry's eyes and direction for epic portraits and Ellen von Unwerth's spontaneous and fun way of directing models.
30. @ian.djakman what do you enjoy the most the moment you click the shutter?
This is a question that got me silent for a moment. I know the answer but it's hard to put it into words. Let me just try it nonetheless,
When I look through my viewfinder, I always got excited when all the things fall right into place. You know, when you shoot around golden hour, when the light falls just right on the model, when beautiful shadows happen, when the moment is perfect and it stays for a brief second urging me to click the shutter. And I hope this doesn't sound too cliche, in that very moment I just feel so, so grateful.
16