Huangshan (黄山): the mountains that has been immortalized in endless numbers of ancient Chinese paintings, poetries and stories. The mountains that all my Chinese friends have described with excited voice and adoring eyes. The mountain named after The legendary Yellow Emperor who unified the whole China (hence the popular name 'Yellow Mountains', because it's not actually yellow). The myth said he found the secret of eternal life in this mountains. The mountains that has been on my bucket list for almost ten years.
In 2008, my mom visited Huangshan with her relatives and showed me the photos she took on her phone and I. Was. Amazed.
Astonished. Stunned. Awed. Mesmerized. Everything. You know why?
Because my mom was NOT good in taking photos and back then her phone camera wasn't even that sufficient to take a good quality image, but those photos I saw was breathtaking.
I mean, anyone can browse for photos of The Yellow Mountains online and see a number of beautifully composed, lit, edited, professional photographs. But if my mom (sorry mom!) can take awesome pics that dropped my jaws to the floor, then the place must be something.
(Disclaimer: She gets better and better in taking photos though.)
I've been traveling to Shanghai more than I can remember, but each trip was more packed with work than the others. Hangzhou, Suzhou and Huangshan are always on my 1-2 daytrip excursion plan; but I just never got the time. So despite my short week in Shanghai last month, I planned an ambitious trip to visit Huangshan for one night.
I did some research on trips about the Yellow Mountains and most website suggested that we should stay on the mountain summit to be able to enjoy both sunrise and sunset -but that, if we're lucky; because on some days, thick fog will cover most of the areas. That shouldn't be a problem. Then came the next confusion: The mountains area is HUGE. It's not just ONE mountain, it's a range of peaks! You don't just go up and down easily, that's why it's best to stay up there to make the most of your time.
There are many entrances to the mountains, one that confused me the most during my research. There are also different cable cars that will take you to different parts of the mountains. There are approximately 60,000 stairs steps leading to all the scenic spots. Now what. Exploring everything is obviously impossible to be done in a mere two days, maybe even a month! All the hikes will be strenuous and demand high stamina so we have to choose wisely which ones we want to tackle in this short time.
In the end we decided to cover the Eastern side which has plenty of scenic spots (and also the easiest route to hike), so we proceed to find the hotel around this area (more about our hotel below.)
We left in the wee hours of the morning from Shanghai by car (5 hours) and arrived in Tangkou town (汤口镇) by 10 am. Tangkou is the only town on the foot of the mountains closest to the cable car station. You can get also reach Tangkou from Shanghai by bus (6 hours) or by high speed train (4 hours) with the transfer in Hangzhou. I will definitely take either of these options if I had more time to spend, but since we only had two days including travel time, every hour counted.
From the foot of the mountains, you can either trek for 4-5 hours or take the Yungu cable car which reduce your travel time to 10 minutes. It was drizzling when we arrived so the cable car (RMB 80) was a better option. Actually, I was lazy. The cable car saved my life and it conveniently sent us to the top and from there it's only half hour walk to our hotel.
There are in total 6 hotels on top of the mountains area: Beihai Hotel (北海宾馆), this is the hotel that I chose, and Shilin Hotel (狮林大酒店) located in the North Sea Scenic Region (北海景区), Xihai Hotel (西海饭店) and Paiyunlou Hotel (排云楼宾馆) in the West Sea Scenic Region (西海景区), Baiyun Hotel (白云宾馆) in the Tianhai Scenic Region (天海景区) and lastly Yupinglou Hotel (玉屏楼宾馆) which is built on the Jade Screen Peak (玉屏峰). Really, don't bother finding them on Google map.
All of these hotels are marked three to four stars; but I'm positive these rating got different standards when you're on top of a remote mountain. The price was exuberant guys. So was the RMB 40 cup of coffee served in the hotel. But most hotel also has dormitory/bunk beds for a more affordable option.
Our room in Beihai was… well, okay clean, to say the most. The rooms are small, beds are firm and furnitures worn; but that aside, you didn't come all the way to Huangshan to pamper yourself inside a luxurious hotel room, did you? For a hefty $120 a night (twin beds), we pay mostly for its prime location, since the hotel is right in the middle of the best viewing spots in North Sea Region.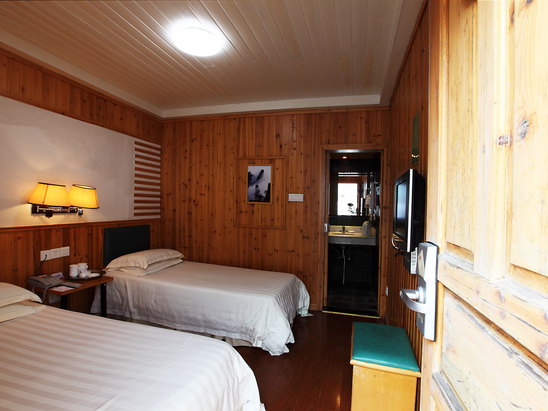 Breakfast and lunch was the best thing in the hotel. They offer buffet three times a day (breakfast mostly comes with your room rate) at RMB 140 per pax, which was the only thing that I didn't consider too overpriced in this hotel. The (chinese) cuisine selection is delicious, if you're not too picky about desserts (or the lack thereof.)
The high cost of the accommodations, water and food happens due to the challenge of transporting all the items up the mountains. Everything used and served in the hotels are carried by official Hotel porters (including the visitors luggage), whom we see ascending and descending the stairs carrying loads that's even heavier than their own body weight. Crossfit anyone?
We arrived in the hotel at 1 pm and still had time to stretch our legs while having our buffet lunch. It was extremely misty during that hour and I started to worry that it might last for the whole day. But an hour later, the mist cleared up and we started to take a hike to the scenic spots.
Given the strategic location of the hotel, it only took us around ten to twenty minutes walk to reach the viewing spots. There were six viewing spots around the hotel, and as soon as we got to the first one, I fell in love, hard.
There she was, the Yellow Mountains in all its glory. It surpassed my wildest expectation and I could only stand there misty eyes soaking God's beautiful creation right in front of me. A local tourist, an elderly lady was mesmerized with the view and squealing with delight like a little girl. That moment warmed my heart.
A Chinese proverb from the Ming Dynasty (1368–1644) stated:
You don't need to see any more mountains after seeing 'the Five Mountains',
and you don't need to see the other four mountains after seeing Huangshan.
Cheeky ain't it?
Sadly we didn't have the chance to see the heavenly sunrise of Huangshan, as the mountains were totally covered in mist the next morning. Seriously, we couldn't see anything farther than a few meters except a white mist abyss. It was eerie and magical at the same time.
We were told that this happens more than 2/3 times of the whole year, so I guess only the lucky ones can witness the famous sunrise. I vowed to come back again next year on a drier season and spend a few nights here; so I'm not done with you yet, beautiful mountains.
---
Some tips for the first timers:
On rainy season and winter, October-March, always bring a raincoat. Umbrellas will be far from efficient and it will also be highly impractical when you have to pass lots of tourists crowding the way.
Always keep your luggage to a minimum. There will be endless stairs to climb so don't exhaust yourself carrying loads that you won't be needing on top of the mountain. Unless you're a Crossfit mania. Then by all means: Go heavyweight, champ!
But if you really need those three pairs of shoes and jackets, porter service costs around RMB 40 per small luggage.
Buy your bottled water from the Tangkou town or be prepared to pay 4 times the price when you're on top of the mountain.
Though Huangshan is relatively easy to hike with all the neatly paved stairs, it's still not a place for kids (or high heels, while we're at it), the handrail (if there's any) is only a waist-high wooden rail, and on some of the tracks you'll be walking in between valleys.
Keep your safety at all times! Check the soles of your hiking shoes to make sure it's not slippery.
Also Huangshan can be really crowded during holiday peak months and it's not unusual, when passing large tour groups on steep stairways, to be accidentaly shoved or pushed aside by the crowd (or their backpacks)
If you're taking cable car descending the mountain back to the town (which is a great idea if the day is getting darker), remember that the last Yungu cable car runs at 4pm and it will take you approximately half hour to walk to the cable car station.
While you're at Huangshan area already, consider visiting nearby towns such as Tunxi, Hongcun, Dixi or Tachuan. I will cover Tunxi Old Town on my next journal so stay tuned!
Photography: This is a no brainer but don't leave without extra batteries! Also after this trip I would consider getting a chest strap to avoid the cameras swinging around when I had to climb the boulders to get the perfect spot to shoot.
Leave your laptop at home/Tangkou/Shanghai/anywhere else that's safe, just don't bother bringing it up to the mountain. Just because there's a hotel up there doesn't mean wifi exists. You're on the summit of the mountain. Rather, carry extra memory cards so you don't have to think about transferring data to make extra space.
Keep yourself dehydrated to avoid muscle strains or cramps on the next days. Also the more coffee and salty food you consume, the more liters of water you gotta gulp down. Especially if you're flying home right afterwards. I learned this the hard way. Trust me, walking in between Changi airport terminal transfers had never felt that painful.
That's it love! Hope this journal will inspire you to plan a trip to the Yellow Mountain. If you have any more question, let me know in the comment section below! xx
24