Back at ya babes with another Asia travel itinerary featuring the Pearl of The Orient, the Queen of The East, The Paris of Asia, and many other names this captivating city goes along with; Shanghai.
There's something about Shanghai that I can never find in any other cities in Asia. It's hard to put it into one word but many things come to mind when I dream about old Shanghai: the glamorous world in Jazz Age, the Orient Express, Cinema, Art Deco, qipao-wearing ladies dancing in big dance ballrooms, a golden era of western influence and Eastern charm merged into an opulent dream.
Traces of these are still found intact in the city, juxtaposed with the skycraping metropolis that keeps growing in incredible pace, making it one of the most photogenic cities in the world.
Last month was my comeback to the city (finally!) after a whole year. Shanghai used to hold a special place in my life when I still traveled there regularly for work. Being able to visit at least once every two months (and staying somewhere between a week to three), I used to know every turn, junction, crossroad and metro numbers by heart. When someone asked me which city I can imagine myself dwelling in, Shanghai was one out of five cities on my list (The other four? Paris is a no brainer, then comes Bali, Tokyo and Amsterdam)
So what happened? Life. Life happened. As life allowed me to work with a Shanghai photography agency back then in 2008-2013, life also put my Shanghai travels on a halt that year when my agency closed their China branch; and just like that, the work travel also stopped and I kinda forgot about the one city I used to adore the most.
But enough history and let's move on. Last month I came back to Shanghai for a week trip; playing tourist as much as I could. I visited the old favorites, browsed for new ones and discovered hidden extras.
I did some research online ("shanghai best photography locations" on Google. Because #millenialresearch) and didn't find many new spots; but I'm glad that along the way we stumbled onto new findings. So today I'm going to share you the ultimate Shanghai highlights created by your most loyal photographer, complete with some travel guides and Shanghai how-to for first timers. You can easily tackle all these places in three days (ambitious) or five days (more humane), let's get started:
---
Yu Garden & City God Temple
Ah the classic. Yu Garden (豫园,Yù Yuán / 'Happiness Garden') is everything you imagine Shanghai would look like in an Imperial Era. The beautiful garden was a private garden of the Pan family in the Ming Dynasty. It was the largest and most prestigious of its era in Shanghai, enriched with so much history and culture. Step back in time and wander through the pavilions, manicured garden and koi ponds and feel like a Chinese princess. Take time to really enjoy the meticulous attention to detail in the gardens; which is adjoined by the nearby City God Temple (城隍廟 Chénghuángmiào)
Yu Garden and the Temple are crowded at any time of the day and every day of the whole year, with weekend being a packed nightmare. If you want to have an empty shot without photobombing tourist, your best bet is to visit early on the day on a weekday (8 am). You can easily spend an hour or two here, then you can wrap up and visit the souvenir shops lining up inside and outside the temple.
To get here by Metro, take Line 10 and get off at Yuyuan Station, or if you're traveling with a cab, simply tell him "Yuyuan" or "Chénghuángmiào"
Yu Garden ( 豫园)
218 Anren Street, near Fuyou Road, Huangpu District
黄浦区安仁街218号
Admission: RMB 40
Open: 8:30am–5:30pm (Mar–Oct), 8:30am–5pm (Nov–Feb)
---
Shanghai Film Park
Shanghai is the birthplace of Chinese Cinema, which largely becomes the reason why this place was built in 1949. Hidden down the truck-loaded Beisong highway, the film park is only a couple of blocks away down a side lane filled with noodle joints, massage parlours, Internet cafés and short-stay apartments (for aspiring actors?) — an unassuming place to launch some of Asia's best films.
Shanghai Film Park is the first choice for film and television crews when they shoot scenes set in the war against the Japanese invaders and for spy movies. The space boasts the reproductions of landmarks facades from the colonial Shanghai period, such as Nanjing Road, French Concession's Moller Villa and the former Peace Plaza on the Bund, as well as the mini version of Suzhou creeks and Zhejiang Road Steel Bridge.
I grew up with lots of Chinese movies, and it always makes me nostalgic to see the exact locations of some of the greatest movies were shot at. The iconic old cinema in Shanghai Grand (Tsui Hark, 1996), Nanking Road during Japanese occupied days in the controversial Lust, Caution (Ang Lee, 2007), and who can forget the road fighting scene in Kungfu Hustle (Stephen Chow, 2004). Yang Fudong also shot a memorable short movie for Prada here, in the middle of 1930'sNanjing Road mockup. If you're lucky, you might see some movie shooting around the area (and maybe get autographs from the actors); but also conversely if you're unlucky, the whole space will be closed for public if a big production is currently happening.
The film park has seen better days. When I had my first shoot here in 2010, the days were clear and skies were blue; but today seven years later, walking around the abandoned buildings and ghostly facades in a cloudy autumn day, it gives off a bit eerie vibes. I suggest you to arrive here as early as possible.
Shanghai Film Park is located one hour away from the city center. I recommend you to drive/rent a car here to get the most of your time. But there are public transport as well:
Shanghai Tourism Distribution Center has shuttle buses (leaving at 9 a.m.) to Shanghai Film Park every weekend.
Shanghai Tourism Distribution Center (上海旅游集散中心), 666 Tianyaoqiao Lu, below Platform 5 of Shanghai Stadium, 天钥桥路666号,上海体育场5号扶梯下, + 86 21 6426 5555, 6 a.m.-5:30 p.m.
Take Metro Line 1 to Lianhua Lu Station (莲花路站), then switch to bus Lianshi (莲石专线), Lianjin (莲金专线) or Lianfeng (莲枫专线) to Chedun. The film park is a 10-minute walk from the bus stop.
Take Metro LIne 9 to the last stop at Songjiang Xincheng (松江新城), and then take a RMB-30 taxi ride.
Shanghai Film Park (上海影视乐园)
4915 Beisong Gong Lu, near Xinche Gong Lu
北松公路4915号, 近新车公路
+86 21 5760 1166
Admission: RMB 50, Wedding Photoshoot: RMB 800
Opens Everyday 8:30 am – 4:30 pm
---
Long Museum
Situated away from the hustle and bustle of the city center, Long Museum (龙美术馆) is the pride of West Bund. Founded by Chinese collectors, Mr. Liu Yiqian and his wife, Ms. Wang Wei, the Long Museum owns two exhibition spaces: Long Museum Pudong and Long Museum West Bund. As world-renowned art collectors, their collection is extremely large, covering traditional, modern and contemporary Chinese art as well as contemporary art of Asia and Europe. The building of Long Museum West Bund itself is a work of art, a truly unique structure built from faced concrete.
We were lucky to find Antony Gormley's installation in Long Museum this month. Antony Gormley is widely acclaimed for his sculptures, installations and public artworks that investigate the relationship of the human body to space. Upon entering the museum, we were greeted with Critical Mass II (1995) an installation of 60 life-size cast iron body forms, displayed around the main exhibition area on the first floor. A more recent work, Passage II(2017), is a 15.5 metre-long tunnel shaped like a standing human form, is also found here.
To get here by Metro, take line 7 and get off at Middle Longhua Road Station, from there it's a ten-minute walk from the Long Museum.
Long Museum West Bund (龙美术馆西岸馆)
3398 Longteng Ave, Xuhui Qu
上海市龙腾大道3398号 (近瑞宁路)
+86 21 6422 7636
Admission: RMB 100
Open Tuesday to Sunday 10 am – 6 pm, closed on Mondays
The first Tuesday of every month, Long Museum is free for public.
---
The Bund
If there's a place that made me fall in love with Shanghai on the first sight a decade way back, it's The Bund (外滩; Wàitān.)
Having been fortunate to travel alot, I still think that The Bund is one of the most photogenic streets in the whole world. Which is no wonder that, for more than a century, the Bund has been the pride of Shanghai. Yes, this riverfront boardwalk is touristy, a particular magnet for local tourists, but trust me, you've never been to Shanghai if you haven't seen the Bund.
The Bund lies north of the old, walled city of Shanghai, what is today Remin & Zhonghua streets. The architecture along the Bund is a living museum of the colonial history of the 1800s. Lies here on the western bank of Huangpu River is the rows of 50+ historical colonial buildings in Gothic, Renaissance, Baroque and Art Deco revival style; and on the eastern bank is the waterfront promenade of Huangpu river, LiuJiaZui futuristic skyline reaching high to the sky and the iconic Pearl Tower standing tall and proud.
Here's a really useful walking map from China Highlight's website for you architectural and history buffs out there, you can either start at Broadway Mansions and finish at the Meteorological Signal Tower, or simply the other way around, depends where you come from.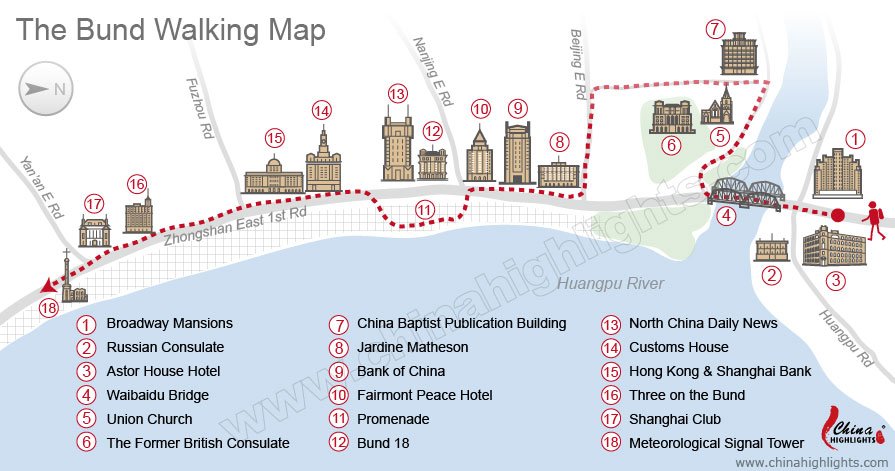 There are no Metro stations directly on the Bund but East Nanjing Road Station on lines 2 and 10 is only a 5-10 minute walk west of the Bund and many bus lines including #20 (from Zhongshan Park, following W. Nanjing Road to People's Sq., then Jiujiang Road to the Bund) and #37 will get you here. If you're traveling with a cab, simply tell him "Wàitān".
The Bund (外滩)
Zhongshan East 1st Rd, WaiTan, Huangpu Qu
中山東路1, 外滩
---
Shanghai World Financial Center
I think by now you should know that I'm a sucker for observatory decks, given how many times I've posted city bird eye shot on this blog. There are three mega skycrapers in Shanghai, Jin Mao Tower (my favorite for the architectural style), Shanghai World Financial Center/SWFC (my favorite for the view) and the most recently opened: The Shanghai Tower (the tallest of all three, and currently the second tallest building in the world after Burj Khalifa). Each building offers an observatory deck where you can enjoy a bird eye view of the city. I chose the SWFC because it has an unobstructed view of the Pearl Tower and the Jin Mao Tower.
Just like I would never climb Eiffel Tower to get a Paris top view with Eiffel, I wouldn't climb Jin Mao Tower for the same reason lol.
SWFC, or "The Bottle Opener" Building as it's famously known as, was designed by the Japanese Mori Building Group; who also built the world famous Omotesando Hills and Roppongi Hills (which also happens to be my favorite observatory deck) in Tokyo.
In SWFC, you can either buy your ticket to access the 94th floor (RMB 120) or you can choose to get the access to all the top floors: 94th, 97th and 100th floor (RMB 180). I recommend you to come here half hour before sunset on a clear day to get that perfect blue light photo, even though this is the most crowded hours. The first ultra high speed elevator will take you to the 97th floor with the speed of 10 meters per second. The view on this floor is not that impressive because of building obstructions so forget it and head straight to the end of the deck. From here you'll get in line for another elevator to go all the way to the 100th floor (the line here is pretty long so just put it into your time consideration.) The view of the 100th floor is truly fantastic, at 6 pm sharp when the sun goes down, the lights are turned on and the city will sparkle right before your eyes.
If you're taking the Metro, take line 2 and get off at Dongchang Road Station, get out of the station from Exit 4; or get off at Lujiazui Station and get out of the station from Exit 6. Then walk 10 minutes towards the building.
Shanghai World Financial Center (上海环球金融中心)
100 Century Ave, LuJiaZui, Pudong
世纪大道 100, 陆家嘴 (浦东)
4001-100-555 (09:00~18:00)
Admission: RMB 120 (94th floor only) RMB 180 (94th, 97t and 100th floor)
Open Everyday 8:00~23:00 (Admission until 22:00)
---
Jing'An Temple
I'm just SO glad that the city temple is finally finished. Back then, everytime I passed the golden pagoda rooftops (still being renovated and all covered in construction screens), I always imagined how beautiful it will look like. Jing'an Temple finally finished the second renovation and today's reconstructed temple, surrounded by modern skyscrapers and shopping malls, is a perfect place to escape the hustle and bustle of downtown Shanghai.
Come here to peek through a fascinating window into the spiritual lives of Shanghainese. The temple also looks wonderful at night with all the lights illuminating the golden facade.
If you're taking the Metro, take Line 2 or Line 7 and get off at Jing'an Temple Station. Leave from Exit 1 to the temple directly.
Jing'An Temple (静安寺)
1686 Nanjing W Rd, JingAnSi
南京西路1686号
---
So here you go! I wish I had more days to explore Shanghai because there are still many places on my list that I haven't got the chance to visit! Hopefully I'll update this journal soon. xx
17